Push to Talk App
Simple and intuitive, ensuring a unique user experience
The Push to talk app has been developed in conjunction with the most critical of users. Point of departure: clear, easy to use, essential functions readily accessible and easy to find. In a few simple clicks, the main talk groups and two additional talk groups can be configured. Just one talk group, multiple talk groups or conference call groups can be activated or put on standby in an instant. Volumes can be controlled individually or as a group with or without priority. The user themselves can select the order and position of the talk groups. The result: a fully scalable communication platform with superior audio quality.

User-friendly and clear
Talk group
Discover the lifeline push to talk app
Switch quickly between multiple groups
Multi group mode
Discover multi groups
Select your groups in an instant
Channel selection
Read more
Superior audio quality, ultrafast
Push to talk
Read more
Available, busy, en route… Let colleagues know your current status.
Status
Read more
The emergency button activates the alarm function
Alarm function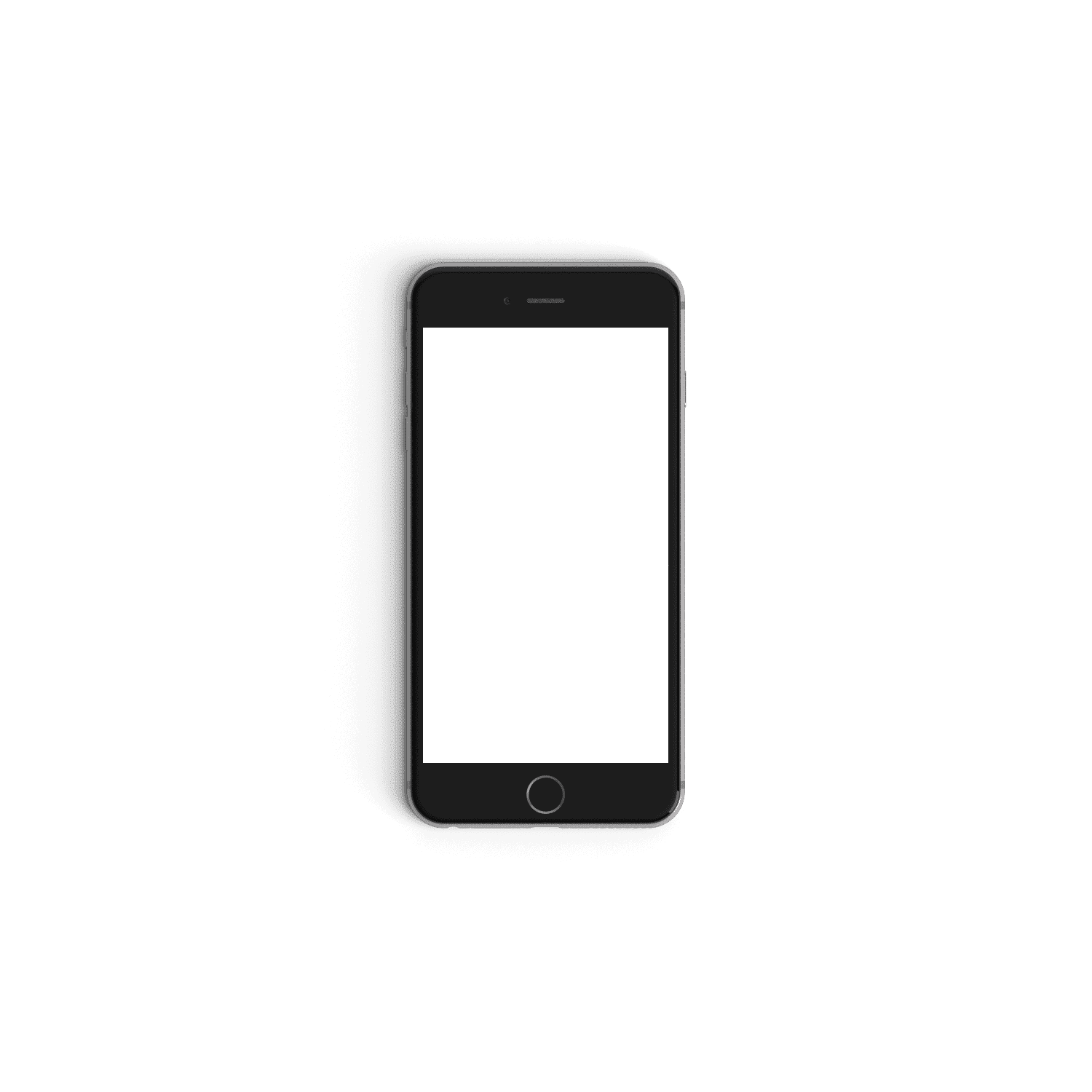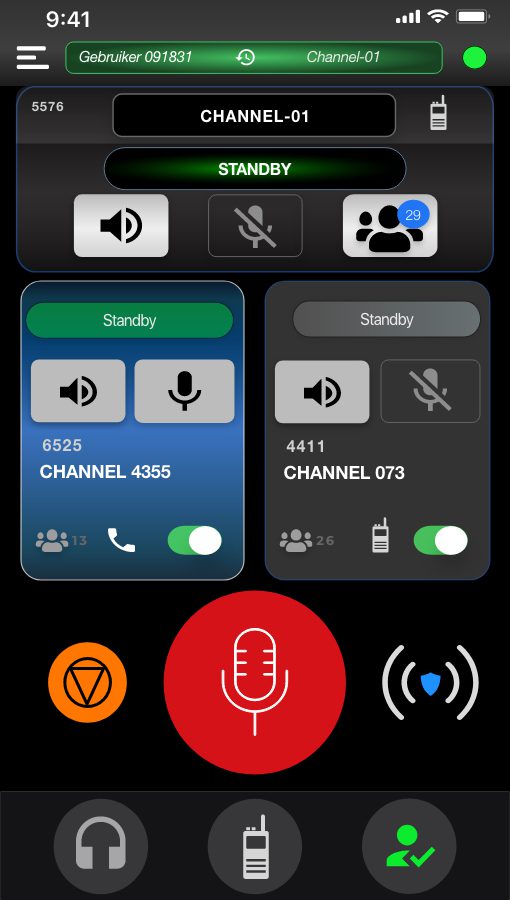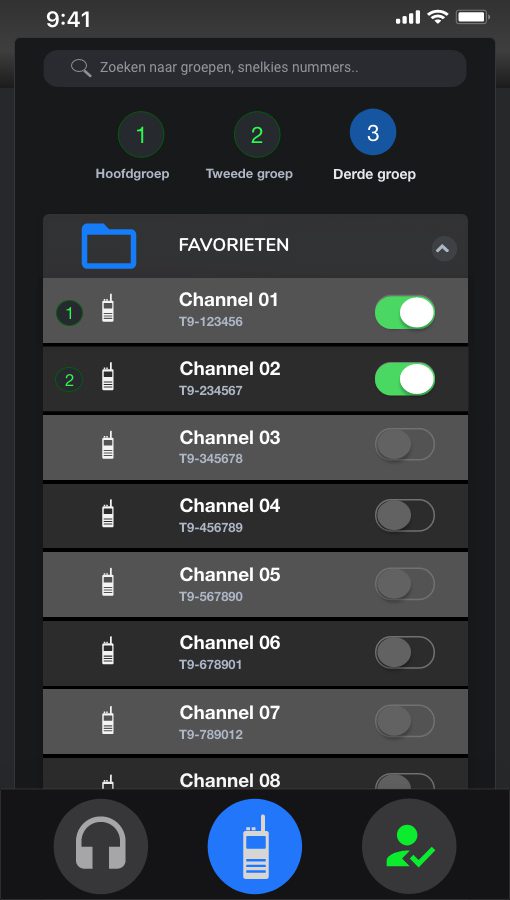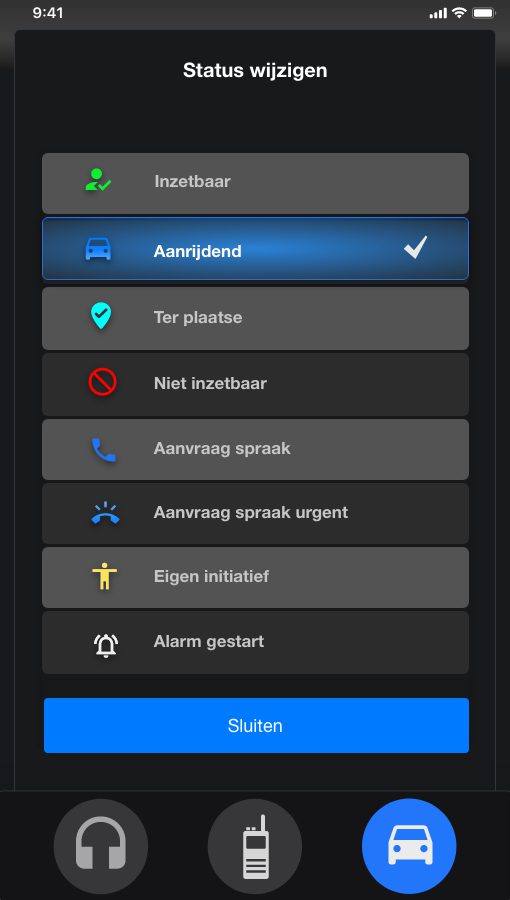 Unique functions
Superior audio quality and ultrafast...
Push to talk
With a simple push of the PTT button, you can connect with participants in the selected talk group. You can see at a glance which users are active in the talk group. You can switch between talk groups in an instant in the user-friendly list of talk groups.
Multi Group modus
Want to keep up to speed with multiple talk groups? In multi group mode, you can participate in up to three talk groups simultaneously.
Gateway
The Gateway is used to integrate existing (TETRA) communication networks into Lifeline. This connection incorporates voice functions and data from the existing network into talk groups and the Lifeline dispatcher.
Status
Available, busy, en route… Let colleagues know your current status. Is a message high priority? An 'urgent' message tells the dispatcher that rapid follow-up of a call request is required.
Location Service
Displays an overview of all users and their status. The user-friendly dispatcher follows all users in real time and displays the user's current status.
Beep function
In addition to voice communication, the Beeps option allows you to respond briefly to a message. The user transmits a series of beeps to forward or confirm a message.
Conference Call
In a conference call talk group, an unlimited number of participants can participate in a discussion by means of an open connection. With a simple push of the PTT button, the user can enter into an active conversation and can also exit with the same ease. Multi group mode allows you to keep up to date with what is going on in the other talk groups, and you can also see what is happening in the background in the other talk groups.
Alarm function
In emergency situations, a user can report an emergency to colleagues and the control centre at the touch of the button. A single press of the emergency button will activate the alarm function and inform colleagues and the control centre. From then on, all recipients will hear what is happening on site, the location will be displayed, assistance can be started and help brought in.
Accessory Programmer
Lifeline accessories have been developed to align with the needs of users and their work processes in the best possible way. For certain work processes, it may be desirable to change specific settings. The Accessory Programmer allows users to set up, program and link accessories to the Lifeline platform.
Individual call
The contact list can be used to set up one-on-one calls. The users concerned can then communicate with each other in a one-on-one conversation without the intervention of third parties. In urgent cases, the dispatcher can intervene in one-on-one calls.
Radio controller
Lifeline offers its own unique Radio Controller which allows TETRA portable radios to be operated remotely via a smartphone or tablet. The portable radio and Lifeline are operated using a single device.